"Gene & Cell Therapy and clinical applications"
Fundação Dr. António Cupertino de Miranda, Porto, Portugal
25 | 27 October 2021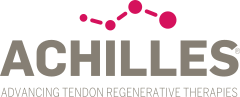 In the framework of the TWINNING H2020 European project ACHILLES (https://achilles.i3bs.eu), focused on overcoming specific weaknesses in tendon biology to advance the design of advanced regenerative therapies, we have been organizing a series of International Conferences in the recent years. The Third Achilles Workshop will take place in Porto, Portugal, from the 25th to the 27th of October 2021, and will focus on Gene & Cell Therapy and clinical applications. The event is organized for students and young researchers interested in key aspects of gene/cellular therapies for tendon repair, translational science, and clinical trials for tendon injuries treatment.
The Third Achilles Workshop is being planned to be held as a hybrid event, while assuring all the necessary safety precautions regarding COVID-19 pandemic, privileging the presence of both speakers and participants. This event will strictly follow all the directives of DGS (Directorate-General of Health - Portuguese Health Authority). The Venue will be prepared with all the protective measures and with the stamp Clean & Safe that follows the current guidelines of the Health Authorities.
Conference Chairs
Conference Co-Chairs