Vila Flor Cultural Centre (CCVF)
Av. Dom Afonso Henriques 701,
4810-431 Guimarães
GPS: 41.43695 , -8.29554
Open on google maps

The conference will be held at Centro Cultural Vila Flor (CCVF) in the city of Guimarães, whose historic centre is a UNESCO World Heritage. Guimarães is associated with the emergence of the Portuguese national identity in the 12th century, being known as the birthplace of Portugal. Its historic centre is an extremely well preserved and an authentic example of the evolution of a medieval settlement into a modern town. In summary, a wonderful city providing a unique atmosphere and character together with an outstanding perspective of history, food and wine. Therefore, besides the cutting-edge scientific program, the conference will provide a dynamic social program that will foster informal interactions between participants and a delightful experience in this beautiful historical city of Guimarães.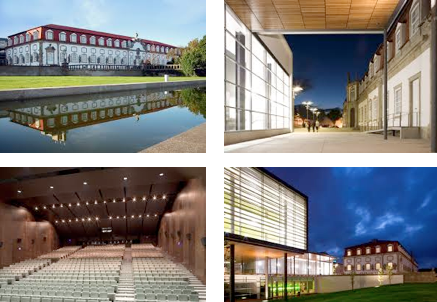 DIRECTIONS
By plane
The easy way to go to Guimarães by plane is to fly to Porto/Sa Carneiro Oporto international airport (OPO), and then catch a train or a bus to Guimarães. It's about one hour from Oporto to Guimarães, by bus or by train.
Once you get in airport Sá Carneiro, you have to catch the Metro, and go to Campanhã Train Station or São Bento Train Station to get a train, or, if you want to go by Bus, you have two places that you can go: Trindade Bus Station or Batalha Square Bus Gare.
Portuguese Network of Airports Website: www.ana.pt
By train
It's the cheapest and the best way to arrive in Guimarães. The Portuguese company CP (www.cp.pt) is the one that provides travel by train. If you come from Lisbon you have some, but few, direct travels to Guimarães. It's about three hours. From Oporto, you have a train every hour.
If you come by train from Europe, on InterRail, for example, you have always to go to Oporto first, and then you catch the train to Guimarães. This trip can give you the best attractions. One is the cheapest price, and the other is the wonderful views, passing over some small rivers, and small villages, in rural Portugal.
By car
You have a lot of highways going to Guimarães, from Braga, Porto, Felgueiras, Chaves, and others. If you are coming from the south of Portugal there is no difficulty at all. The Portuguese highways are all very well connected, and you only have to go straight to Oporto, and then in Oporto you catch A7 (Highway 7) which goes to Guimarães. It's quite easy.
By bus
Rede Expressos, a national bus company, is the best way to get to Guimarães by bus. With this company you can travel from almost every (big) city in Portugal (i.e. Lisbon, Oporto, Coimbra).
The Get Bus, is a bus service with direct connection from the airport to Guimarães and return. (https://www.getbus.eu)
If you are traveling by cities near to Guimarães, like Braga, for example, or even Oporto, you always have to ask to people (a very common thing in Portugal) where you can get a bus to Guimarães (you can try this in the cities within about 50km). You may make a lot of stops during the trip, but it's a way to better get to know the North.
Get around Guimarães
In Guimarães, there is a bus that lets you travel through the city centre but, as it is not a very big city centre, you probably will prefer to walk by foot and enjoy the harmony of this medieval city. Nevertheless, if you want to travel by bus, the tickets price are about 1,25€.
To go to Penha Mountain the best solution is getting the Elevators - Teleférico da Penha - and go up. If you prefer to have a walk through the mountain it's very safe, and you have nice roads to go up, but it will take about 30 minutes.
Renting a car can be a very nice solution, because, in a small city, there is not many traffic jams, and if you want to stay in a place "far" from the centre, it can be a wonderful transport. It's not so expensive to rent a car but, if you want to feel the city, you can make longer trips, because the city centre has a lot of small medieval streets, that you can only enjoy walking.