"Tendon biophysical environment"
Hotel Vila Galé Collection, Braga, Portugal
04 | 05 November 2019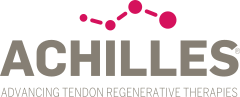 This conference is being organized in the scope of the European Horizon 2020 Twinning project ACHILLES: Overcoming specific weaknesses in tendon biology to design advanced regenerative therapies. In the framework of this project, a series of International Conferences will be organized in the upcoming years. Following the First Conference on Molecular and biological mechanisms of tendon homeostasis and repair, the Second Achilles Conference will focus on Tendon biophysical environment, taking place in Braga, from the 4th to the 5th of November 2019.

The event is jointly organized with TERMSTEM, that comprises a series of conferences organized by the 3B's Research Group since 2012 that intends to make a stand in the worldwide range of conferences in the field of Tissue Engineering, Regenerative Medicine and Stem Cells. TERMSTEM 2019 (6th and 8th of November) will gather world scientific leaders to discuss the latest research while celebrating the 20th Anniversary of the 3B's Research Group!

Back to back with Term Stem, Achilles Second Conference aims to promote a close interaction between highly skilled experts in the field with students and young researchers interested in engineering physiologically and clinically relevant microenvironments for tendon regeneration..
CONFIRMED SPEAKERS UNTIL THE MOMENT
Dimitrios I. Zeugolis - National University of Ireland Galway,IRELAND
Jess G. Snedeker - University of Zürich, Switzerland
Johnna S. Temenoff - Georgia Institute of Technology and Emory University, USA
Alicia J. El Haj - University of Birmingham, UK
Hazel R.C.Screen - Queen Mary, University of London, UK
Martijn van Griensven - Maastricht University, THE NETHERLANDS
Vassilios I. Sikavitsas - University of Oklahoma, USA



TOPICS ACHILLES
Mechanotransduction pathways - Strategies for recreating tendon biophysical microenvironment - Key tendon biophysical cues - Design principles of advanced scaffolds for tendon tissue engineering - Tendon mechanical stimulation

Conference Chairs
Conference Co-Chairs